Innovation
Our ecosystem of vertically integrated companies is testament to innovation being at our core. Each of our companies has been created from the simple, yet surprisingly progressive concept of recognizing the needs of and listening to our customers, as well as studying trends that allow us to anticipate changes in our market and industry.
We are constantly looking for ways to improve how and what we do; constantly looking to be better. And it's not about outdoing something that has already been done – we like to think about what hasn't been done. That is what makes us profoundly different.
Building Design and Material
Leadership in Energy and Environmental Design (LEED) is a green building rating system that is recognized internationally and is administered by the Canada Green Building Council (CaGBC). LEED certified buildings are built sustainably and are designed to function more efficiently, support local industry, put less pressure on landfills and be healthier places to live.
Tridel voluntarily complies with Toronto Green Standard Tier 2, which goes above the mandated Tier 1 standards; this means that all green and sustainable features that are required for Tier 2 are incorporated into a project's site planning and zoning drawings. LEED buildings typically consume 33% less electricity, 59% less natural gas and 40% less potable water than a model reference building. These reductions translate to the condominium community, making it more sustainable and helping to reduce the cost of living for our residents.
Tridel recently achieved LEED Platinum for Aqualina at Bayside, which is Toronto's first LEED Platinum residential high-rise and the second in Canada.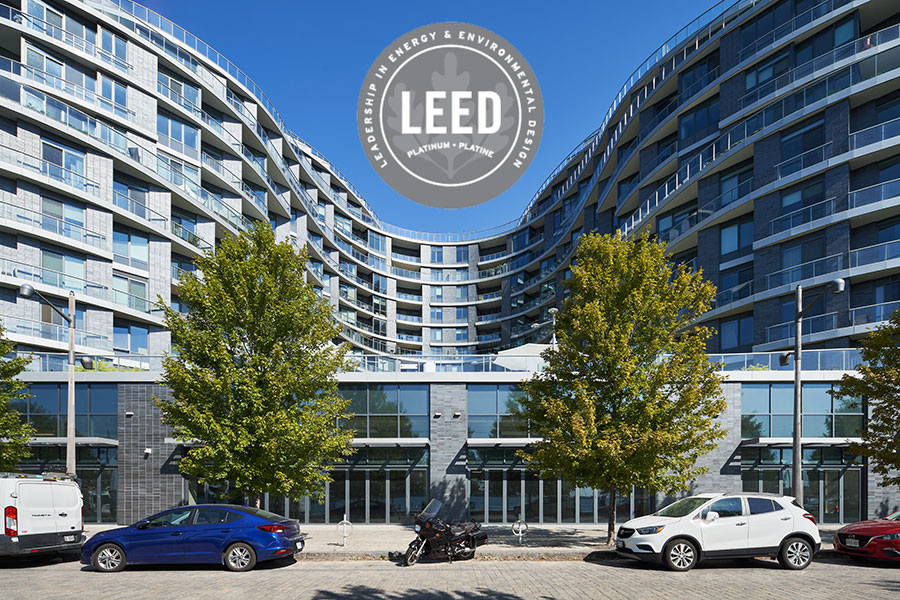 Pre-fabrication is a construction methodology that uses hollow concrete shells, pre-fabricated with rebar off-site, which are later delivered to site and filled with poured concrete once in place. This allows for more control and flexibility, while also being more efficient.
The Tridel Group is currently testing working with prefabricated construction in two of our communities: Humber (Deltera Construction Management) and Evermore. By using this methodology, we ensure that our construction process is not only effective and efficient, but is also eco-friendly and less wasteful as it is fabricated in a controlled environment.
Distributed Antenna System (DAS) is a network that deals with isolated spots that have poor coverage and connection inside large buildings by installing a network of antennas throughout the tower to work as repeaters.
The poor coverage within a building stems from cell towers scattered throughout the city that disperse signals in a downwards direction to serve those at ground level. Given that condominiums and other high-rise buildings extend to high levels of elevation and are structurally built from concrete, these cell signals are unreachable and therefore leave little to no coverage. We have implemented this network within our Ten York community to enhance the signal and allow our residents to stay connected on high floors and within hallways.
Building Information Modeling (BIM) is a technology that uses virtual reality to represent physical space digitally and offers extremely realistic 3D depictions.
Tridel has recently partnered with the University of Toronto and Residential Construction Council of Ontario (RESCON) to pilot BIM technology at our Via Bloor community. By using this technology, residents are able to walk through common element spaces in the community and get a better understanding of the look and feel.
Looking forward we hope to use this technology to further enhance the customer experience and allow our future residents to get an exclusive look at their homes prior to the construction of their suite. Not only will BIM revolutionize the home buying jouney, but it will also enhance the experience for consultant and trade partners.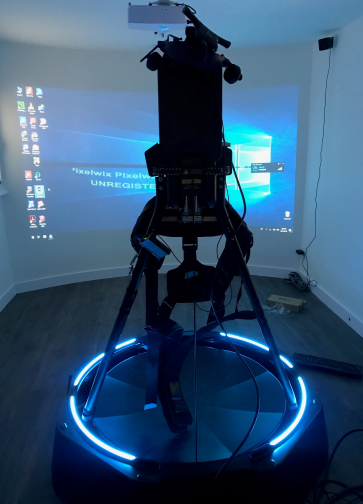 Concrete is everywhere, but the negative impact that concrete has on the environment often isn't considered. For every kilogram of cement that is produced, 0.5 kilograms of carbon dioxide (CO2) is released into the air.
CarbonCure Technologies has created the process of recycling CO2 by infusing it back into solid concrete and trapping the CO2 forever. Traditional concrete is made by mixing sand and cement together and slowly adding water; at CarbonCure Technologies, a precise dosage of CO2 is injected into ready-to-mix concrete. By doing this, the CO2 chemically converts into a mineral and does not contribute to the greenhouse gas emissions. The concrete that is manufactured with the CarbonCure process is equally as strong as traditional concrete and is a beneficial, high-quality building material for sustainable developers.
Tridel has been using this technology at FORM – a 14-storey condo in downtown Toronto - using the cast-in-place CarbonCure to produce walls and floors for the ninth floor and up.
As leaders in innovation and an environmentally-friendly residential developer, we hope to inspire the construction industry to be mindful of and take steps to reduce their carbon footprint.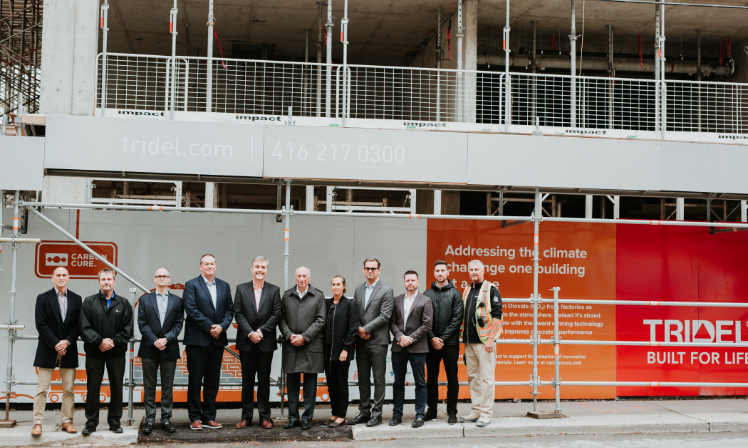 Biomimicry is the process of designing materials, structures, and systems to be produced modeling biological processes and entities. The purpose is to take inspiration from natural sources adapted by the environment and convert those elements and principles to human engineering.
We have implemented biomimetic elements within our FORM community in downtown Toronto by creating a ground level window display inspired by spiderwebs to help prevent bird-related accidents.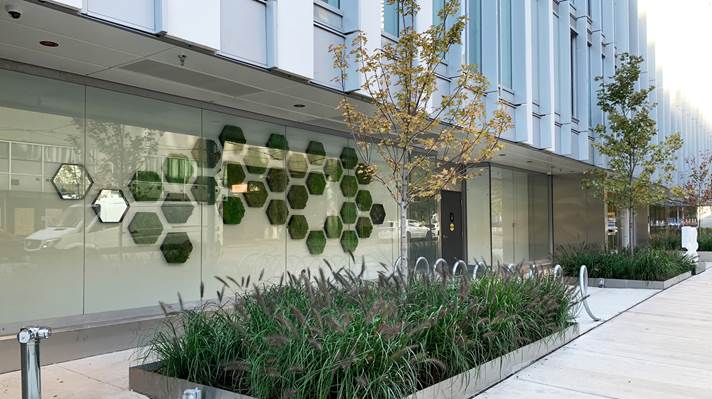 Tridel at The Well is one of the largest construction sites in Canada and spans over seven acres between Front Street and Wellington Street. This community features three million sq. ft. of residential, entertainment, retail and workspace, all in the heart of downtown Toronto. Tying to its name, this community features an Enwave well beneath it. Enwave's Well is an excavated cistern near the centre of the site that is 260 feet deep and situated 14 metres above sea level. This cistern connects to the Enwave Deep Lake Water Cooling (DLWC) system as well as a newly-built hot water loop to provide heating and cooling to the people who live and work at The Well.
DLWC is a cooling solution that utilizes the cold temperatures of water from Lake Ontario. From deep within the lake, pipes pull, filter and treat water before going through a heat exchange process at the John Street pumping station. Once completed, this process feeds into the Enwave system, returns the filtered drinking water to the distribution system and delivers it to Toronto residents.
Moreover, the chilled water goes through a cooling loop beneath the downtown core and can be used for air-conditioning, while additional water goes through a heated loop that uses heat from an existing heated plant to deliver effective and lower carbon heating to The Well's residents as well as those around the city – this is known as district energy.
Tridel uses DLWC because it is a sustainable, renewable heating and cooling system that not only is beneficial to our environment, but also to those living at The Well. Compared to an in-house chiller, DLWC uses up to 90% less electricity, eliminates ozone-depleting emissions and primarily uses renewable lake water. Residents benefit from the Enwave system as it reduces building maintenance costs.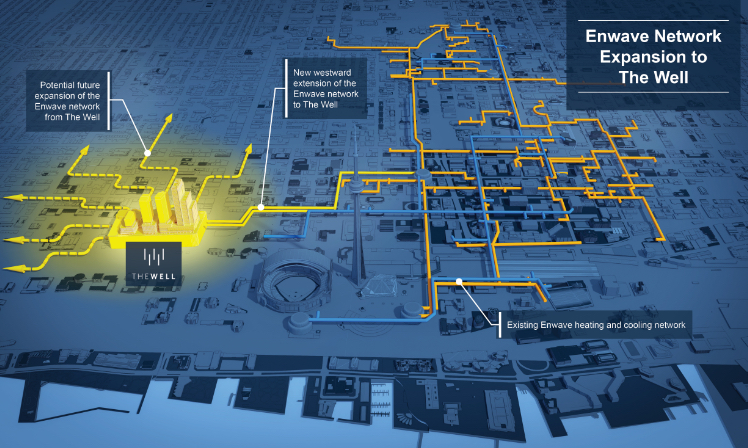 Tridel's first smart condominium, Ten York, features Tridel Connect, an innovative range of integrated smart home features designed to make condo living as convenient as possible.
Tridel Connect makes it easier to do everyday tasks like enter and exit your home, manage temperature settings and the suite alarm system, host guests and receive packages. It also allows homeowners to rely on voice and data connectivity within the building, a benefit that has become very important as a growing number of consumers no longer have landlines or cable and require robust Wi-Fi.
Expanding on Tridel's robust smart home integration features within Ten York, the showcase Innovation Suite takes smart-living a step further and merges technology and design seamlessly to provide incredible connectivity, comfort and convenience. Every component and system of the Ten York Innovation Suite is designed to improve how residents experience their home, with technology-driven features that enhance their lifestyle and create an unparalleled experience in luxury condominium living.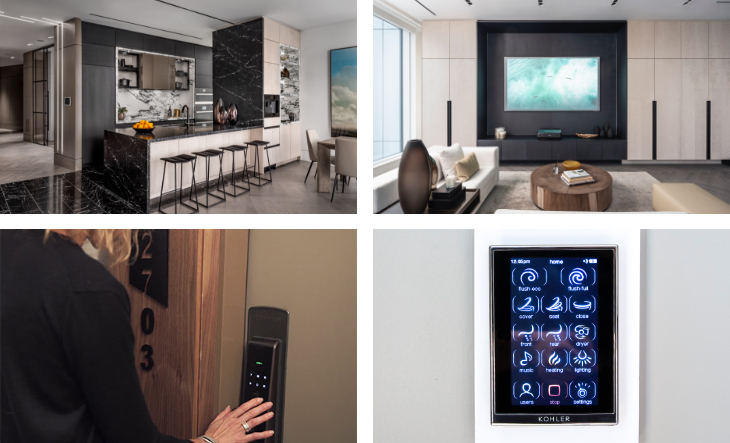 Transportation
An EV Charging Station is an electric vehicle charging station used as a recharging point for hybrid and electric vehicles.
As part of the Toronto Green Standards, we are working to increase the number of EV charging stations available to residents in our communities and promote environmentally-friendly methods of transportation. As leaders in innovation and sustainability, EV charging stations can be found at our head office, sales offices, and in a number of our residential buildings throughout the GTA, like Ten York.
By offering EV charging stations, we hope to encourage a sustainable lifestyle that positively impacts the environment around us.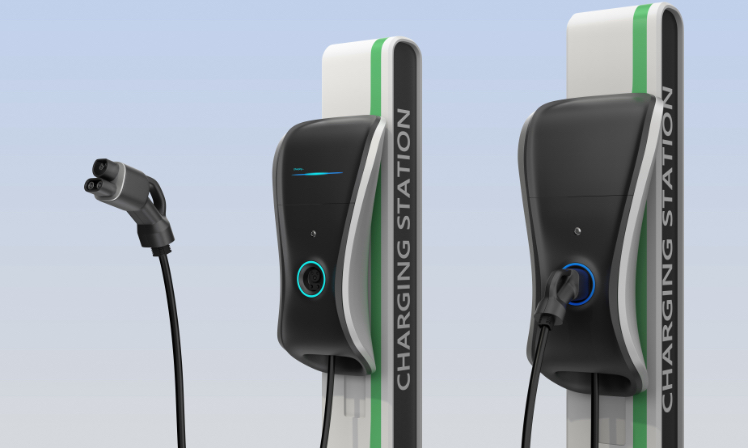 Tridel has partnered with Elby Mobility to offer a fleet of electric bikes as an exclusive amenity for the residents at SQ2 at Alexandra Park. Residents are able to borrow the Elby E-bikes daily on a first-come, first-served basis.
This partnership offers residents a convenient, affordable, and energy-efficient way of transportation, while also promoting sustainable transportation and living.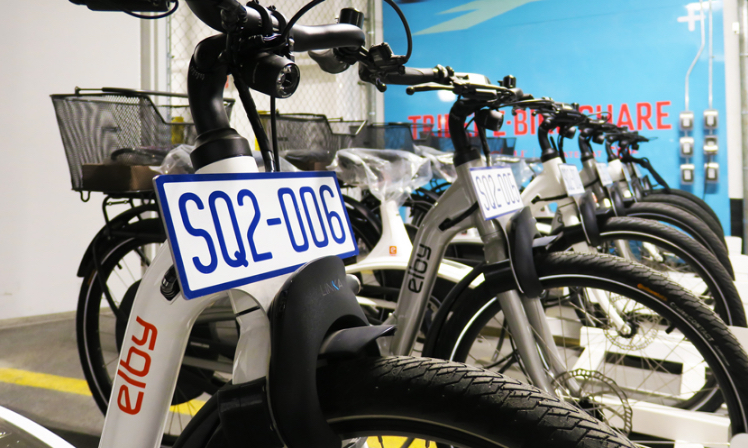 Environment
As a green builder, Tridel is a proud partner of the revitalization of Alexandra Park in downtown Toronto, as well as Leslie Nymark in North York.
Within Alexandra Park, we have partnered with The Bowery Project, a non-profit organization with a mission to create opportunities for urban agriculture within the city. This project has allowed us to provide fresh food to local charities, local restaurants or food providers, as well as engage the community through fun, creative and educational programs.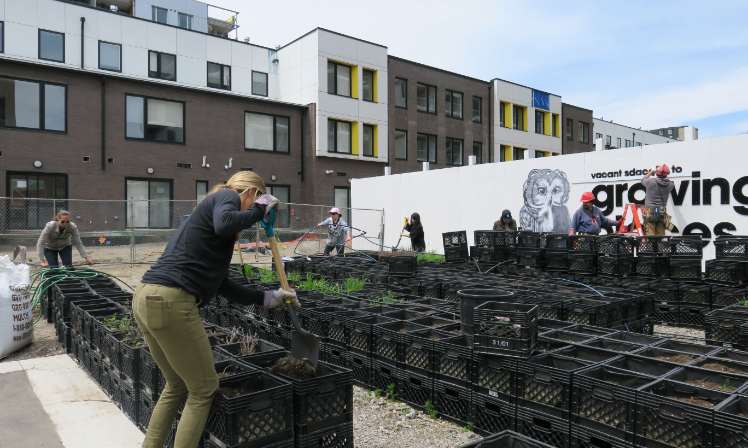 NetZED living is powered by renewable electricity all year round. The electricity produced from the sun is equal to the electricity consumed by the suite, so it all nets zero at the end. Electricity is harnessed from solar panels on top of the NetZED home. Then, excess energy is traded with the rest of the building to offset the home's energy needs at night.
The NetZED goal is to provide high-rise builders with a program that is eco-reverent, while complementing urban lifestyles, and more importantly, reducing the carbon footprint. The NetZED concept is applied to every aspect of the home. From appliances and lighting to linens and mattresses, every finish, feature and piece of furniture tells a green story.
The NetZED suite is located on the penthouse level in the north tower of Aqualina at Bayside, a LEED-Platinum community by Hines and Tridel on the Toronto Waterfront.
Tridel and Hines were recognized for the NetZED suite with the Inspiring Home Award at the Canadian Building Council Awards. This award was presented to those responsible for outstanding achievements of a high-performing sustainable residential project in Canada. Winning this award demonstrates a healthy and sustainable living environment for people, contributes to a better community and proves a commitment to sustainability.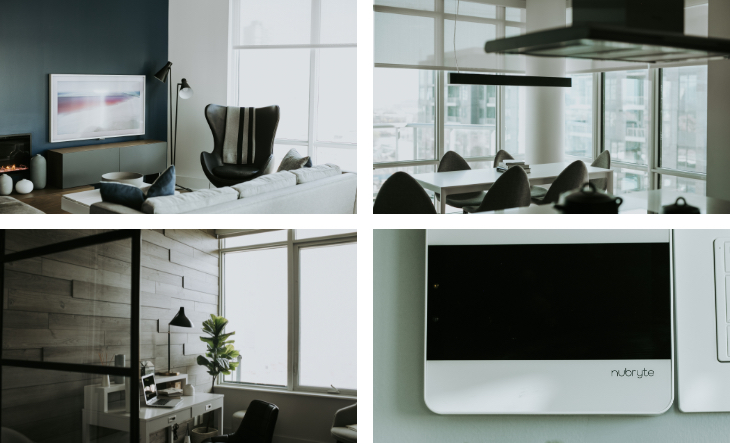 Social
Community Economic Development (CED) is action taken locally to help create better social conditions and economic opportunities, particularly for those who are most marginalized. This approach recognizes that social, economic and environmental challenges are complex, independent and ever-changing. To be effective, the solution to these challenges must come from local knowledge and be led by members of the community.
At Tridel, our journey within a community doesn't end when construction does. We work with volunteers, staff, community leaders and members to implement events and programs that help bring those in the community together. On an ongoing basis, Tridel takes part in several initiatives that help promote food security, improve health and well-being, and provide greater access to opportunities for career growth and development.
Building Opportunities for Life Today (BOLT) is a charitable foundation established by Tridel in 2009. This foundation started with a simple concept: to provide learning and awareness opportunities for youth to the field of construction. By establishing additional community, government and industry partnerships, BOLT has since expanded to reach an even broader youth audience.
To create awareness about the construction industry, we host events such as Day of Discovery, Speak Outs and job shadowing experiences which allow the under-resourced youth within our city to gain hands-on experience and exposure to opportunities that are destined to pave the path for a forever career.
Working with our Take Action Team, an internal group of staff volunteers, we also host fundraisers and events to raise awareness and resources to support scholarships and training opportunities. To date, BOLT has provided over 350 scholarships. These financial awards are presented to under-resourced youth wishing to pursue a post-secondary program in construction.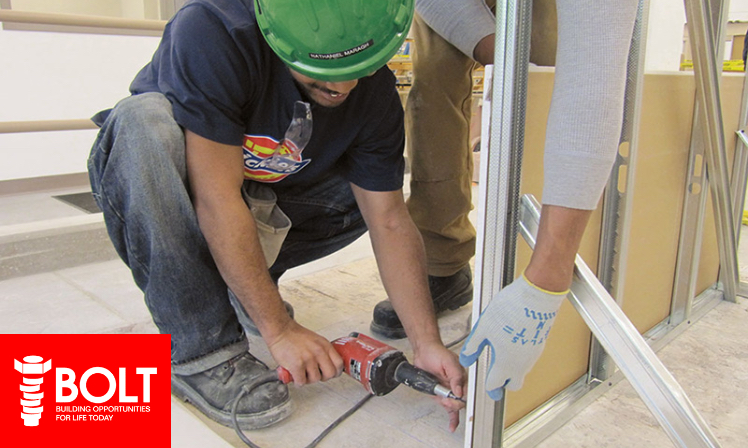 In order to promote a heathier lifestyle for our new homeowners, we have implemented initiatives to animate spaces within our buildings that are less commonly used, such as stairwells, in the hopes to encourage well-being and physical health, while also increasing the chance to connect and engage with neighbours. To date, we have painted the stairwells in our Ten York and SQ2 communities.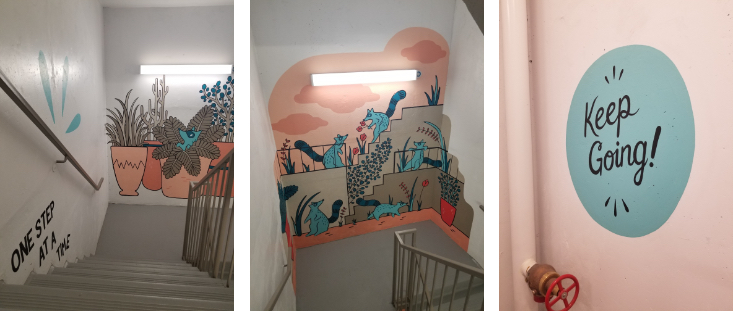 The Angelo DelZotto School of Construction Management can be found at George Brown College and offers eight programs including Ontario's only four-year degree program in construction management. With hands-on education, the ADZ School of Construction delivers high-quality graduates with skills employers need and want.
Working closely with the college, many of our Community Economic Development and BOLT Foundation events take place with George Brown. By hosting Days of Discovery and Speak Outs, we not only expose youth to the construction industry but also to the learning facilities that cater to this education.
Many of our financial awards are presented to outstanding individuals who go on to complete a post-secondary education at George Brown College.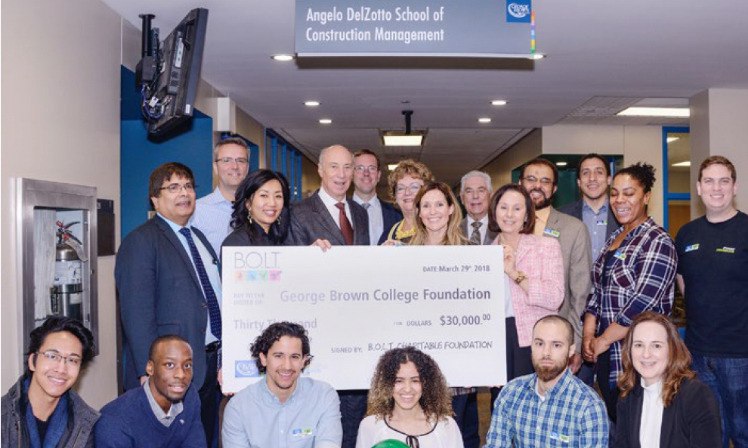 If you would like to discuss any Partnership Opportunities please contact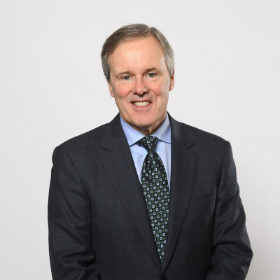 Jim Ritchie
Chief Operating Officer
Contact